5 Main Factors of PCB Test Technician Job Description
By:PCBBUY 03/03/2022 10:03
To perform the job successfully, an individual must be able to perform each essential duty satisfactorily. The requirements listed below are representative of the knowledge, skill and/or ability required. Reasonable accommodations may be made to enable individuals with disabilities to perform the essential functions.
Do you know what PCB test technician is? What is the content of PCB test technician job? If you are going to learn more about PCB test technician, please check and read the content below for more.
Wanna know PCB knowledge? Check and read for more.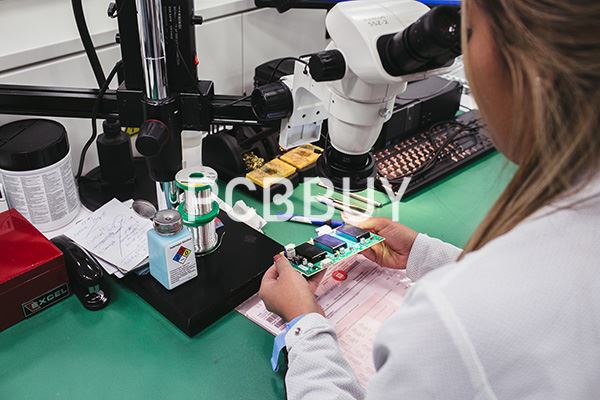 What is the job content of PCB test technician?
A circuit board repair technician repairs printed circuit boards (PCBs) and equipment that utilizes PCB designs. In addition to analyzing the needs of each job and performing necessary maintenance, your duties in this career may include working on the assembly and installation of new printed circuit boards. Your responsibilities also involve restoring full function to circuit boards and other electric control systems. After assessing the repair situation, you may replace circuit board parts or replace the entire board with a new one that has the same specifications as the original.
What are the responsibilities of PCB test technician?
· Perform routine SMT soldering and desoldering of fine pitch electronic components on Printed Circuit Boards under a microscope.
· Inspect PCB Electronic Assemblies for defects; solder quality, parts alignment, missing parts, visual damage, etc
· Test PCBs for failures; Repair / Rework defects
· Assist in building and testing products the team designs
· Ensure laboratory readiness in support of all product development activities
· Manage inventory and replenishment of laboratory supplies
· Perform system integration and validation testing activities, including verification of interoperability
· Measurement data collection and reporting for products in development
· Provide support for the product at customer sites and manufacturing locations
How to be a circuit board test technician?
There are many paths that test technicians have taken to learn the skills of their job, but in general, you can expect a mixture of the following:
Education
Most new technicians will have an associate's degree in electronics or similar training through a technical school. However, some test technicians have learned their skills through several years of experience in a job instead of earning a degree. Typically any sort of electronics or related education is a plus for new test technicians.
Training and certifications
Training by industry standard organizations, such as certification in soldering by IPC, is also considered a plus.
Skills and experience
Here are some of the skills and experiences that potential employers will be looking for:
· Proficiency at reading and understanding schematics and other electronic engineering documentation
· Computer abilities for recording test data and preparing reports
· Basic soldering and rework skills
· General experience in PCB assembly and electronics manufacturing
· Able to work with sales and engineering to satisfy customer requirements
· Experience in preparing and setting up different test equipment
· Proficiency at operating ICT, flying probe, and other test equipment as required
· Test technicians with the training, skills, and experiences that we've just looked at will be well-positioned for work in the electronics manufacturing industry. We'll look at a manufacturer that is looking for people with these skills next.
PCB Instant Quote
Dimensions
Quantity
Quote Now